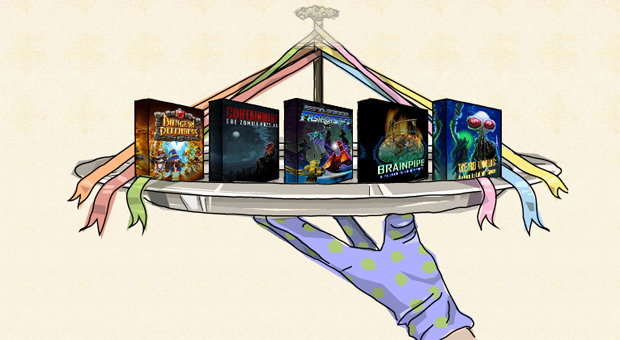 Kurze Meldung zwischendrin, weil sie vielleicht für den ein oder anderen interessant sein könnte. Das Royal Indie Bundle kennen vielleicht einige von euch, mehr kennen wahrscheinlich das Humble Indie Bundle. Das Royal Indie Bundle läuft ähnlich ab. Hier ist es allerdings so, dass der Minimalpreis nach und nach steigt, weswegen "frühe Würmer" günstiger an die Spiele kommen. Was mich begeistert, ist das Spiel, welches das Flagschiff dieses Bundles bildet.
Das ist nämlich Dungeon Defenders, welches spielemagazinübergreifend ziemlich gute Wertungen bekommen hat. Das Spiel habe ich schonmal bei einem Freund gespielt und fand es sehr spaßig. Als ich heute die E-Mail des Royal Indie Bundle bekam, wurde ich daran erinnert. Deswegen werde ich mir dieses Bundle auch auf jeden Fall kaufen. Die anderen Spiele sagen mir zwar nichts, aber ich lasse mich gerne auf Neues ein. Hier noch der Originaltext der Meldung:
Headlining the bundle is Dungeon Defenders an addictive tower defense RPG by Trendy Entertainment that Rock, Paper, Shotgun called, "A superb thing: gloriously colourful, robustly made, filled with tonnes of loot and skills and towers." Next up is Digital Eel's grand space opera Weird Worlds, set in a randomly generated universe of endless possibilities. Also featured is Boot Snake Games' radical puzzle title Containment: The Zombie Puzzler, featuring integrated leaderboards so you can make sure that your past glories are more glorious than your friends'. In addition, fight the system as you plunge down a continuously twisting and turning three dimensional retro wireframe landscape in Data Jammers: Fast Forward. Rounding out the bundle is the otherworldly mind control device, masquerading as a seemingly quaint computer game, Brainpipe: A Plunge to Unhumanity.
Finally, those who pay $7 USD or their currency equivalent during the May Hurray Bundle get Starscream's 'Future, Toward the Edge of Tomorrow' music album - the first full length album from the NYC chiptune futurists.
So check out the May Hurray bundle today, before it's too late!
comments powered by isso