Heute mal ein Experiment mit Bilingualität. Die deutsche Version steht untendrunter.
English Version
So the long awaited Black Mesa: Source Mod is now downloadable. You need some prerequisites for it, but no problem. After installing you will find out that you can't play it on any resolution or - as I like to do it - in a borderless mode. So here is how to fix this:
As any Source engine game Black Mesa Source supports some command line parameters. If you want to use a resolution which is not supported in the options menu, you can add it as parameters height and width to use it nevertheless. If you want to use borderless mode when playing windowed, just add noborder. So I added -height 1080 -width 1920 -noborder to my parameters and i got what I wanted.
Noobie help: Where to add these?
If you don't know where to append these parameters, no problem. The easiest way is to right-click Black Mesa in your Steam games library, choose Properties and then Set Launch Options. Here you can add all the parameters you want. For further instructions and parameters look HERE.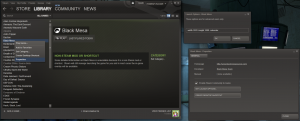 Deutsche Version
Endlich ist die lang erwartete Blacke Mesa: Source Mod veröffentlicht worden. Neben einigen anderen Voraussetzungen wie etwa dem Source SDK sind weder Download noch Installation ein Problem. Allerding werdet ihr beim ersten Starten feststellen, dass weder alle gängigen Auflösungen im Optionsmenü zu finden sind, noch der von mir heißgeliebte rahmenlose (borderless) Fenstermodus. Wie kann man das beheben?
Wie jedes Spiel auf Basis der Source engine unterstützt auch Black Mesa: Source gewisse Command Line Parameter. Wollt ihr also etwa eine nicht im Optionsmenü aufgeführte Auflösung nutzen, nutzt ihr height und width als Parameter für Höhe und Breite. Wollt ihr den borderless-Modus haben, braucht ihr den noborder-Parameter. Ich habe also für meine 1920x1080 Auflösung und einen borderless Modus die Parameter -height 1080 -width 1920 -noborder als Startparameter hinzugefügt.
Anfängerhilfe: Wo setze ich diese Parameter?
Es gibt mehrere Möglichkeiten, wo ihr diese setzen könnt. Die einfachste Möglichkeit geht über einen Rechtsklick auf Black Mesa: Source in der Steam Games Library, dann auf Eigenschaften und dann auf Startparameter setzen. Die Schaltflächen könnten etwas anders heißen, da ich Steam in Englisch nutze, bin ich mir nicht ganz sicher. An dieser Stelle könnt ihr jeden Parameter setzen, den ihr brauchen könntet. Eine gute (englischsprachige) Übersicht findet ihr etwa HIER.
comments powered by isso